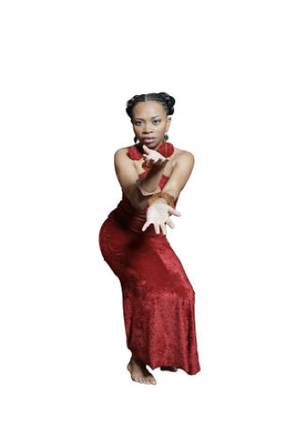 Aniba Hotep is an American Singer/Songwriter whose name translates as Messenger of Peace.  Born in a small Virginia town, Aniba's career started at the early age of 8 years old when she would travel throughout Virginia performing in churches. She became known as "Little Mahalia" amongst her church peers. Her powerful southern voice, even as a child, would help her to win contest after contest. It also brought her to the famed Apollo Theater. She remained popular, as the quiet girl with the big voice, throughout high school and college. 
After college, Aniba made the decision to move to Chicago where she performed at local open mics, quickly becoming respected as a vocal powerhouse. She began to make recordings with a local hip hop producer. Her first EP,
Etheric Child,
influenced by hip hop, gained much respect from her peers, and wowed audiences. Aniba then began to seek out a band to bring movement and fluidity to her original music. Her voice was so respected that it was not hard finding what has now become The Sol Collective. 
Aniba is classic in every way, from moving from the country to the big city, to having roots in the church and influences like Otis Redding, Al Green, Shirley Brown, Betty Wright, Billie Holiday and Mahalia Jackson. She is a musical chameleon, able to morph into any style from gospel to hip hop and even acoustic. She implements soulful tones that haven't been heard since the 60's and 70's. Aniba is what many call the natural progression of soul. She has lead her band, The Sol Collective, to many heights.  
In March 2013, Aniba received national recognition as the winner of TV One's
"Are You Unsung?
" vocal competition, and was featured on the TV Show Unsung.
With amazing vocal and writing skills, you can look to Aniba Hotep to become the modern-day Aretha Franklin, Gladys Knight, Patti LaBelle, and Tina Turner.